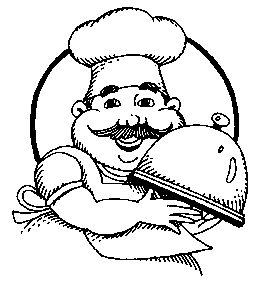 Welcome to all,worldwide.
RecipesFinder-GlobalService.com
---
Enjoy an ethnic community culinary adventure.
Are you,and your friends planning a special occasion dinner? Perhaps you desire to please your guests,and family with a unique first course surprise, - from various standard international menus,especially if your guests are culturally diverse. If you have no time to search for those authentic recipes you have in mind,then we can be of assistance. The finds should delight you.
---
* Our service offers fulfilling your desires by a search, based on your specifications. The results (2-3 downloads) will be e-mailed to you,within 1-2 days,allowing receipt of pre-payment. *Note: close matches will be sent to you,if exact spec's. are not met. (Refunds ONLY for no finds/ e-mail notified
---
*You have 3 pre-payment options. Pay by your currency for a total of $15.00 cad (Canadian), per order of 2-3 recipes (= approx. $10.75 usd):
(1.) Use PayPal®: the trusted,secure encrypted (military strength) credit card payment system used worldwide. You are not required to have a PayPal® account. A:Just click on the 'Pay Here' button,& B:"click here if you do not have a PayPal® account".You are then directed to the PayPal® secure payment form (your currency is converted to $15.00 cad). Note:PayPal® is your confidential credit card processing agent (none of your information is divulged to us,your service). PayPal® notifies you,& us of all the transaction details,by e-mail. *PayPal® is an eBay compan
(2.) Or Pay by Western Union instant money - transfer,(using cash,or your ATM,or credit card). They also offer a 1-2 day delivery (costs you less),if preferred.
*Make payable to Douglas E.Wright, 540 Queen St.,east, (ste.601),Toronto,Ontario,Canada m5a 1v2. Add my phone no. 416-941-1092 (they will notify us).
(*Please NOT payable to our URL website address).
---
(3.) Or pay by bank,or postal money orders (no checks). Please include your address,zip code,& phone no.
*Payable to our name,and address mentioned above,& NOT to our (URL) website address,please.
---
We would be happy to quote on an expanded search of recipes for an archive of ethnic/ nation/ regional dishes. Cost based on a reduced average searching time per hour. E-mail us your desires.
---
Recipes disclaimer: We offer an internet search service for a fee,only. RecipesGlobalSearchService.com cannot be held liable for the content of any recipes used. You accept all responsibility by placing orders,as you would in searching yourself. We are not affiliated with any sites,nor do we endorse those sources found. Thanks for understanding.
*Note: all recipes,and e-mails sent to you are virus pre-screened by Norton Antvirus 2003.
---
We aim to satisfy your desires for a culinary adventure. Enjoy preparing your delights. Your guests will compliment the chef.
Whatever the occasion we await your inquiries.
*Our e-mail address: webpage@sympatico.ca
Bon appetit.